Client's briefing
A versatile bag which I can use to go shopping, to go to a dinner date or to go dancing
The bag needs to be as sustainable as possible and made out of upcycled leather
I love gold!
The idea, the concept
Create one bag with 2 different looks. A reversible bag
A simple and asymmetric design which gives the bag an original look
Add a made to measure organizer to make it easy to change look
Material & details
Versatility Redefined with the "Ika" handbag.
Ika, the ultimate accessory designed to seamlessly transition from casual chic to glamorous glitz. Crafted to meet the demands of every occasion, this handbag embodies the spirit of versatility and innovation.
Dual Personality: The "Ika" handbag is a true chameleon, offering two distinct looks in one. On one side, it exudes a discreet and sporty vibe, perfect for those relaxed outings. On the flip side, it transforms into a dazzling symbol of glamour and allure, ready to steal the spotlight.
Recrafted Excellence: The magic of the "Ika" handbag lies in its transformation. One side is expertly crafted from repurposed black leather, once part of a vintage jacket, adding a touch of nostalgia to its design. The original jacket's structure has been seamlessly integrated into the new bag, with its pockets now serving as functional compartments within the handbag. It's a harmonious blend of old and new, where heritage meets innovation.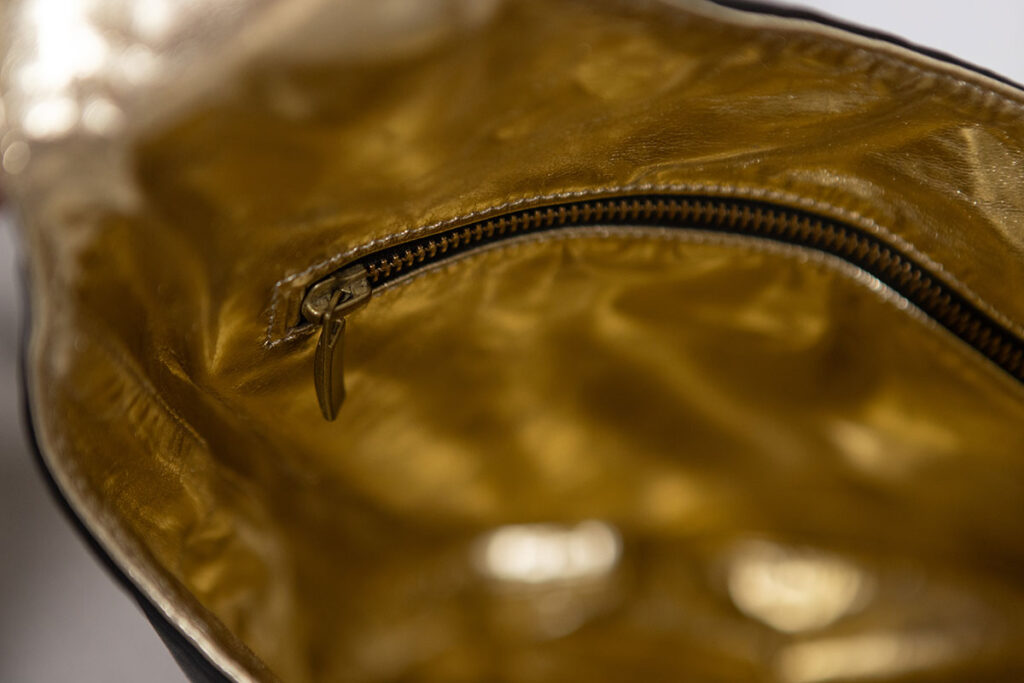 Gleaming Glamour: On the other side, the "Ika" handbag comes to life with its radiant, shimmering gold leather. A single front pocket, adorned with a sleek black and gold metal zipper, provides the perfect touch of opulence. This side of the bag effortlessly transitions from day to night, making it the ideal accessory for any evening ensemble.
Quick Transformation: Switching between looks has never been easier. After a day of casual adventures, the "Ika" handbag transforms into a dazzling evening accessory in an instant. Simply remove the contents, choose the optional inner bag for organization, turn the handbag inside out, and place the inner bag back inside. You're now ready to step out in style, leaving a trail of glamour in your wake.
Stay Organized: Worried about keeping your essentials tidy and clean? The "Ika" handbag has got you covered. The optional inner bag is designed to keep all your belongings neatly organized within the handbag, ensuring nothing gets lost or soiled during your busy day.
The "Ika" handbag redefines versatility, seamlessly blending the worlds of casual and glamour. Experience the magic of transformation and the elegance of innovation with a bag that effortlessly adapts to your every mood and occasion. Make a statement wherever you go, and let your style shine with the "Ika" handbag by your side.