Client's briefing
Looking for a small and handy, but stylish belt bag which can be worn crossbody as well
Original design
Purple is the client's favourite colour
The idea, the concept
A handy and at the same time stylish/chic design
Simple but sophisticated
Leather purchasing has been done together with the client
Material & details
"Gitte" Belt and Crossbody Bag: Your Ultimate Style Companion.
Elevate your fashion game with the "Gitte" hip and crossbody bag, a versatile and glamorous accessory designed to effortlessly complement any outfit. This small yet stylish bag redefines elegance and luxury in a compact form.
Sleek and Functional Design: "Gitte" boasts a unique double trapezium shape, measuring a compact 21cm at its base. Its thoughtful design includes a concealed smartphone pocket at the back for easy access on the go and a discreet integrated front pocket with a secure zipper closure, perfect for storing cards or other essentials.
High-Quality Craftsmanship: Experience the epitome of craftsmanship with the "Gitte" bag. It features a premium gold-tone double zipper closure, ensuring both security and style. The bag comes with a 4cm wide adjustable strap, fastened by two sturdy press studs. Wear it comfortably around your waist or across your body, adapting to your desired look and comfort.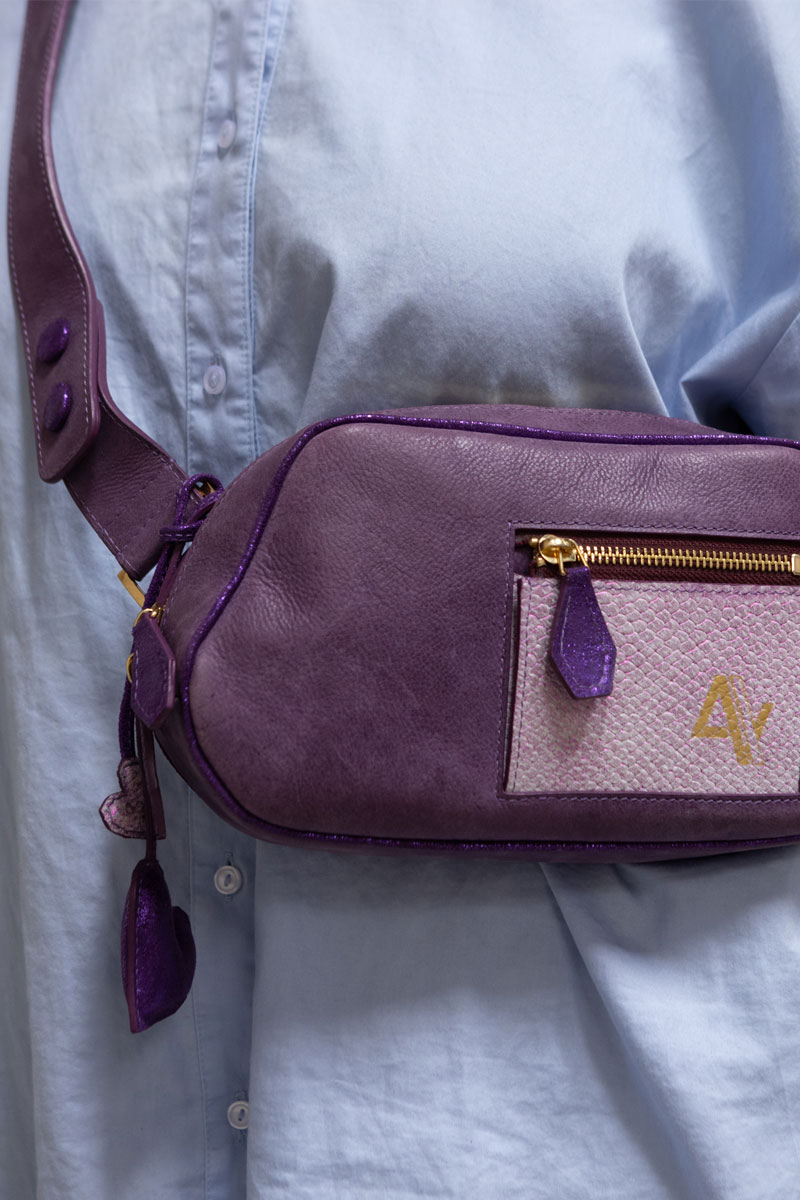 Elegance Meets Glamour: The "Gitte" bag embodies a harmonious blend of three captivating colours. Crafted entirely from leather, it features a rich purple vegetable-tanned cowhide as its primary material. Accentuating this exquisite base are details in dark mauve glitter leather and shimmering white and pink exotic-printed leather. The result is a bag that exudes elegance and glamour with every glance.
Stunning Interior: Open the "Gitte" bag to reveal its luxurious two-toned interior, featuring lilac suede paired with the striking white and pink exotic-printed leather. Within, you'll find a convenient zipper pocket with a glossy lining, ensuring your smaller essentials remain secure and well-organized.
Hands-Free Adventures: The "Gitte" bag is designed for those who crave hands-free convenience without sacrificing style. Whether you're exploring a new city or dancing the night away, this bag effortlessly complements your every move.
Elevate your style to new heights with the "Gitte" belt and crossbody bag, the embodiment of elegance and glamour. Crafted from high-quality materials and designed with both fashion and functionality in mind, it's the perfect accessory for any fashion-forward individual. Make a statement and experience the freedom of hands-free adventures with the "Gitte" bag by your side.